Is Laycon and Nengi emotionally attached?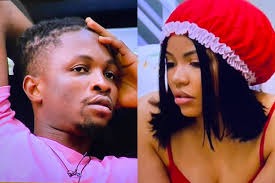 The Big Brother Naija show has been a hit back to back because everything happening in the house is so confusing and complicated recently.
Laycon is who's the favorite of many Nigerians have really been having fun in the house from day one till now and he's quite lucky enough to be among the last five people in the house. He's party vibes has really made him come this far and he's really enjoying himself there.
Nengi who's also so very lucky has been enjoying herself in the house from day one till present and Ozo who she calls her closest friend have also made it fun for her in the house.
Ever since the eviction of Ozo in the house everything just changed entirely, Laycon have gotten the attention of more people because of what is happening between him and Nengi.
Recently Laycon have been into Nengi because she's the only person that rocks him the way he wants it. She goes to Laycon during dancing time because she believes if she gives Laycon he will accept it willingly and he's the only guy she can give such dance because Neo has Vee already and Laycon is just neutral.
Laycon and Nengi have been having fun together back to back, and anyone watching will be thinking the are emotionally attached.
The question is: Is Nengi and Laycon emotionally attached? Don't forget to like and drop your comment.
Vote article
Vote this article + or –
Click button to Vote article on the next page