Governor Hope Uzodimma asks civil servants in the state to align with new government order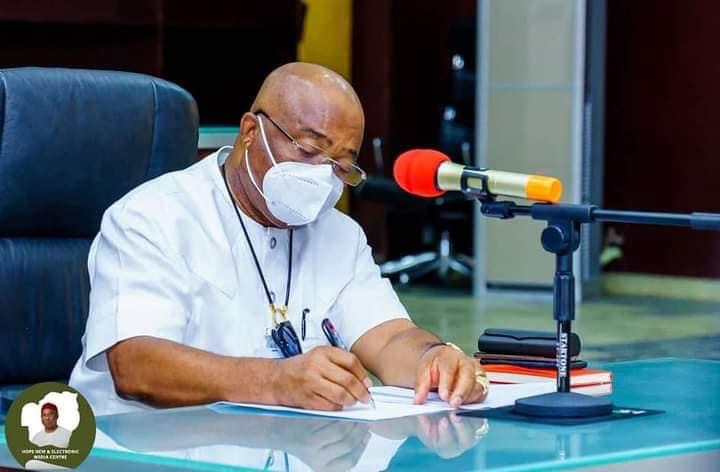 As Gov. Hope Uzodimma is assiduously working towards the rebranding, upgrading and sanitization of the Civil Service system against corruption and every form of maladministration, it is very much clear that it will not be an easy ride especially when sharp practices virtually run in the civil service DNA.
The Governor amongst many other sectors of the state is very passionate about the civil service since it is the engine that powers the economical drive of the state. It is often said that a moribund civil service is tantamount to a snail pace economy either at the federal or state level and for the shared prosperity to get to all and sundry, there is need to reawaken the patriotic spirit of our civil servants.
The shared prosperity government of Gov. Hope Uzodimma since inception has prioritized the welfare of Imomo workers through the payment of salaries, renovation and steady power supply of and in the state secretariat, provision of a mass transit coaster bus to take civil servants tho and fro to work. These and many more are amongst the few things government is doing to ensure that there is no room for lapses or sharp practices in the system.
It is expected that while fighting corruption, corruption will eventually fight back but Gov. Hope Uzodimma is more than ready to fight to a stand still any form of corrupt practices or persons that will jeopardize or sabotage the efforts of the state government in making imo civil service a world class of global best practices.
Civil servants in the state should as a matter of dedication, commitment and sincerity to duty align with the new order of government for the civil service and ensure the eschew unnecessary excuses to work and unethical practices in line with the 3R mantra initiative that will continuously put smile on their faces.
For the economy of the state to move forward beyond where it is now, both the state government and civil servants in the state must have to work in tandem and synergize on different courses that can move the state forward and this is what Gov. Hope Uzodimma is ready to do for a purposeful judicious use of the meager resources in the state.